Engage can generate QR and barcode images which can be sent out in emails to customers. A code image like this can then be scanned from the customer's phone screen at checkout, allowing them to confirm their identity or to scan a voucher or order number, quickly and easily.
The QR and barcode images are created as URLs formatted in a specific way and then pasted into the Engage email editor as an external image URL. When the email is sent out, the customer's data you've decided to include will be automatically encoded into the barcode or QR image.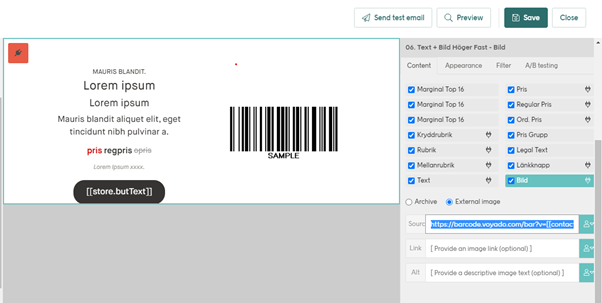 All the customer needs to do is produce the email and allow the image to be scanned. The scanner will send the value stored in the code to the connected system. Use-cases for this are to allow smoother identification of the customer or permit them to present a specific promotion they would like to use at checkout.
The details on how to create URLs for QR codes or barcodes can be found here.