Products of interest (POI) are those products the customer has interacted with on the website and might therefore be interested in buying. Using activity web tracking, Engage can add these products of interest to a list which can then be used in, for example, segmentations. This data will also become a part of the algorithm that Engage uses to calculate future product recommendations.
To get started with products of interest, you'll need to do the following:
If you're unsure whether your Engage account allows you to use POI, reach out to your account manager or to support@voyado.com.
Calculating the ranking score
Products of interest are ranked to determine the most relevant. This ranking is based on the number of views and also how recently the product was viewed. When calculating the ranking score, Engage goes back 90 days and then creates a ranked list of the ten products with the highest score.
The complete list can be seen on the contact card for a specific customer, under the tab Products of interest. Here you can sort the products based on several criteria:
Favorite (which is ranking)

Product ID

Product name

Group

Web category

Last visited

Bought after last viewing

Number of times visited
Using in segmentations
Products of interest allow you to build useful audiences in segmentation.
In the segmentation tool, first choose Specific product of interest in the dropdown: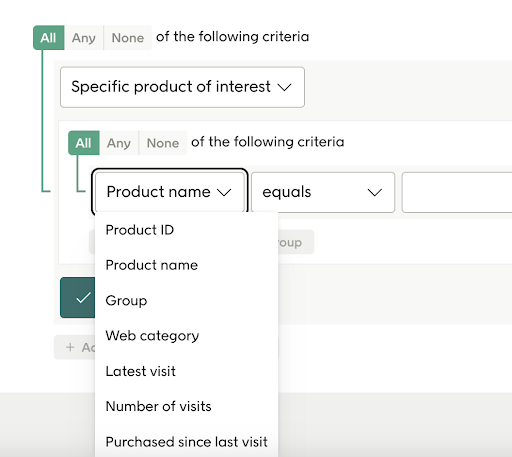 Then open up the sub-criteria and select any of the following:
Product ID

Product name

Group (product group)

Web category

Latest visit

Number of visits

Purchased since last visit
Automations
Another use for POI is that you can use them in automations, such as in a split or also as a trigger by using scheduled selection.