When you have both Engage and Elevate 4, you can access the 'Current interests' tab on the contact card. This is an Evolve feature requiring Elevate 4 and Engage.
Current interests is an Evolve feature, read more about the prerequisites and more details here.
A contact's current interests are displayed in a designated tab called Current interest. Here you can find the top three entries for each concept as long as there is sufficient aggregated behavioral data. The data presented will change over time, re-calculated on a daily basis according to a scoring mechanism.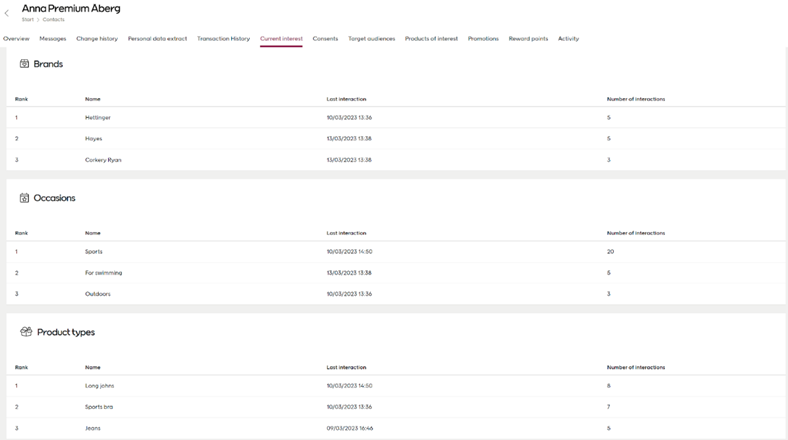 For each concept you see a breakdown of the top brands, occasions and product types:
Rank
Name
Last interaction
Number of interactions
Using current interests in segments
Current interest is a condition in the segmentation tool and automation conditional. When selected the three concepts: brand, occasion, and product type appear. If such a concept is added, you can search for specific entities within that concept. Read more about the segmentation tools here.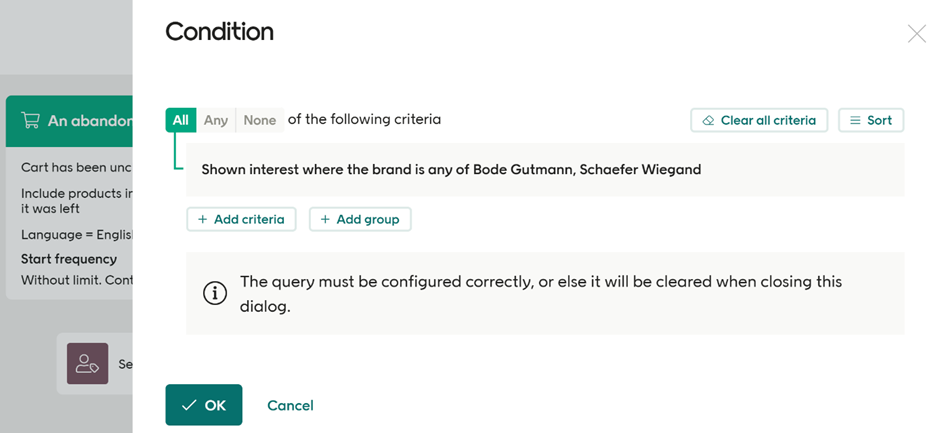 The current interests for each contact will be re-calculated on a daily basis according to a scoring mechanism. As such, the segments and conditions created, can be considered dynamic as the interests of the contacts change over time.
Current interests in emails
You can use the interests as personalized fields in the email designer. The emails you send can now relate to the overall interest of, for instance, a target audience. Read more about personalised fields in emails here.