The same promotion can be assigned multiple times, and it's up to you if you want to assign the promotion manually or from an automation (or both). This article is about how to do it in an automation.
When you perform a manual assignment to a segment, all contacts that meet the criteria at the time of the assignment will get the promotion. If you want to assign the promotion to new contacts as they match the criteria over time you need to assign it from an automation.
Keep in mind
As you set up a multichannel promotion that you'll assign from an automation, there are some details to consider:
Make sure to limit the validity period from the time of dispatch.
Make sure to remove the promotion from the automation before you finish the campaign.
Remember not to enter the validity period in the Presentation. The correct validity period is automatically supplemented at the time of dispatch.
Assign from automation
First, you need create the automation by clicking Automation, choosing New automation and selecting an entry trigger. Once this is done, here's how to add the promotion to the flow.
Click the plus sign, choose Activity, and then Assign multichannel promotion.
Select the promotion in question and save by clicking OK.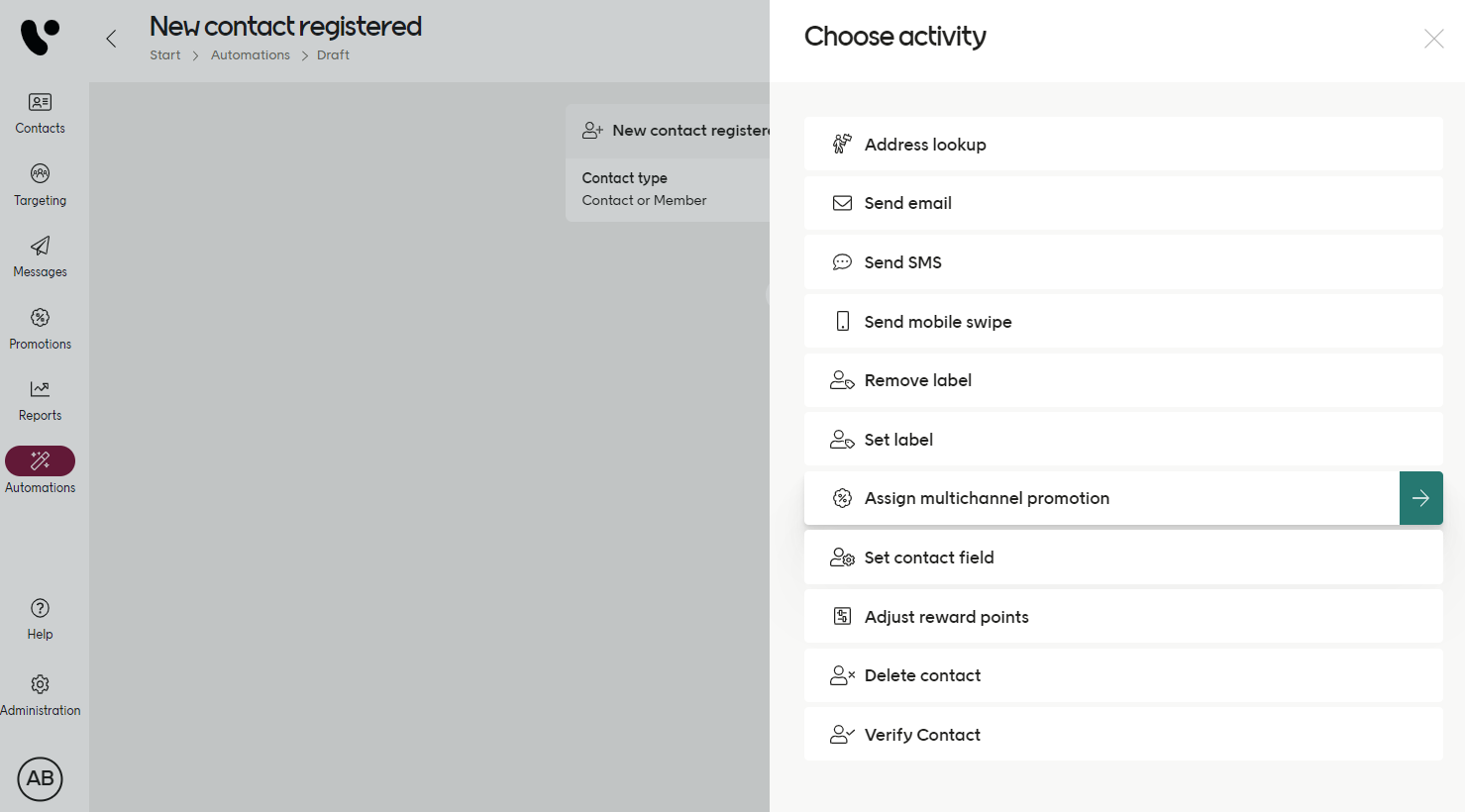 Remember to communicate
The offers are available in the POS window or at the online checkout for the assigned customers, but they won't know about it unless you communicate it to them.
Add an email or SMS to your automation flow right after the promotion to inform the customers about the offer.
Validity time
An assignment of any promotion will only look at actual days (24 hours). This means that a promotion with a general end date will be active until 23:59:59 on that specific date. E.g., if you choose "Limit validity period from the assign time" and assign a promotion with a one-day validity, it'll be valid the day of the assignment and until 23:59:59 the day after.
If the start date has already occurred, the offer is assigned immediately, otherwise it'll be scheduled. The contacts will have the offer assigned to them in Engage and if you use Engage POS Accelerator, the campaign will be displayed there as well.