Voyado supports a number of different types of promotions that can be sent / assigned to specific contacts, selections or audiences. Which one you can use depends on your specific setup of Voyado. Talk to your customer representative or send an email to support@voyado.com if you are interested in using Voyado to create and send promotions.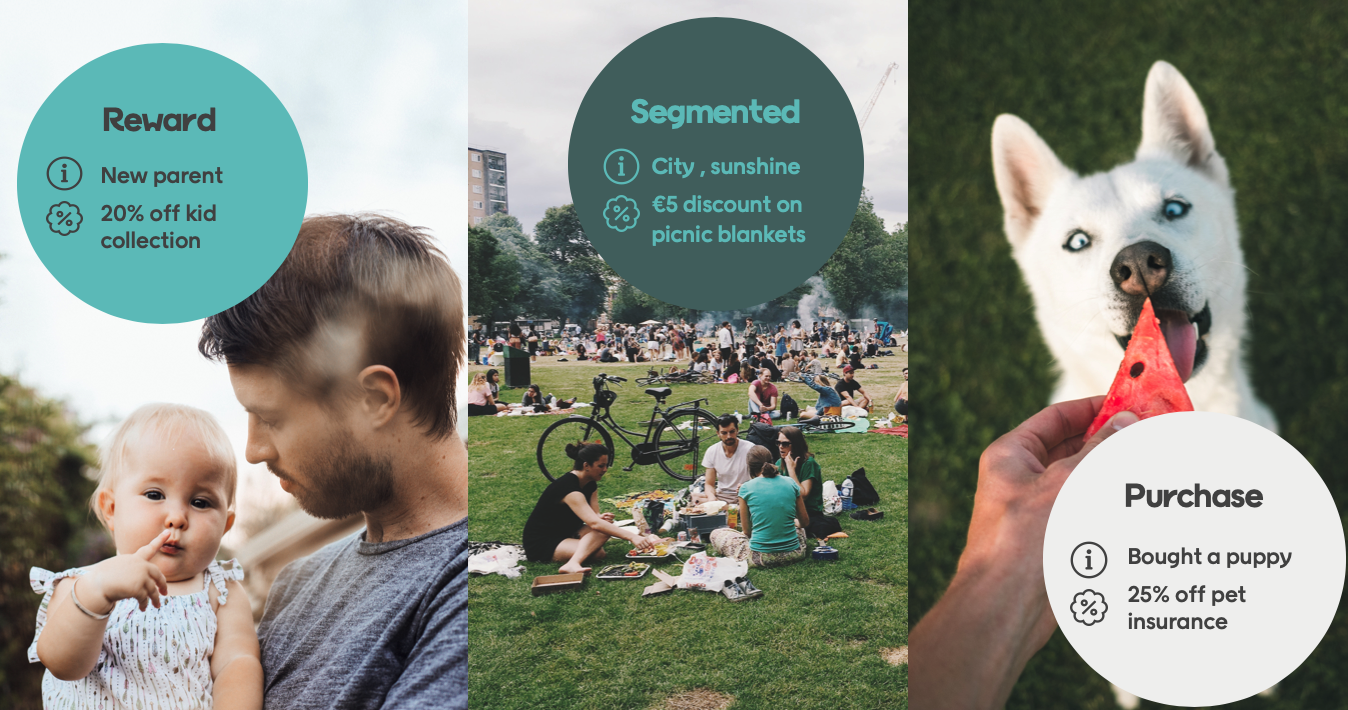 Code promotions
You can create code promotions with the same code for all, unique codes per recipient and date control or let the codes apply until further notice. This type of promotion is usually communicated via a send-out but can also be communicated via an automation. Read more about Code promotions here
Multi-channel promotions (store & ecom)
You can create and assign multi-channel promotions to specific members or all when relevant. These will be visible in Voyado Loyalty Bar and in your own when such integration has been made and offers can be redeemed from the cash window. Read more about Multi-channel promotions here
Mobile swipes
This is an offer form that today is primarily communicated via SMS, either via manual send-outs or via automation. One communicates a link that leads to a designed mobile page that presents the actual offer with a swipe to redeem. Manual handling in cash register is required. Read more about Mobile swipes here
Reward vouchers
Vouchers are handled manually and, depending on how your model is set up, you either empty all earned points and translate into the corresponding monetary value or sum up points based on a step model and then send out vouchers with fixed amounts. Read more about Vouchers here.
Extra points per purchase
If running a reward program there is a promotion in Voyado, that can be used for special campaigns, where you want to treat your customers a little extra under a given period of time, by assigning extra points on purchases besides the standard ones.
You can set up if you want the extra points assigned to everyone in your contact base, specific segments or perhaps to specific purchases within a product category. When setting up the promotion you can choose betwen two calculation methods for the extra points, a Factor or a Fixed point per article.
Factor
If you use a "Factor", you can decide what value the purchase sum should be multiplied with.
Example: Value 2 would give double and value 3 would give triple the purchase sum in reward points. If you would set the value to 1.3, it would give 30% of the purchase sum in extra points.
Fixed point per article
If you choose "Fixed point per article" you can give a fixed number of points per item on the receipt. Example: If you set the value to 10, each item on the receipt will give 10 extra points.