Code promotions are mainly used for online shopping, where there's usually a field to enter discount codes at the customer checkout. You can create promotions with unique codes for each recipient, or the same code for everyone. The codes can be date-controlled or valid until further notice.
It's important to know that there is no link between the e-com and Engage for this—you need to ensure that the codes are in both systems, the most common scenario being that the codes are created first and then uploaded into the promotion in Engage.
Set up a code promotion with externally created codes
Go to the Promotions tab in the left-hand menu and choose any of the available options.
Click New promotion in the top right corner and select Code promotion.
Enter details such as promotion name (for identifying the offer in Engage), validity dates and code settings of your choice. If you don't set an end date, the offer applies until further notice.
Submit your list of codes by clicking Add codes at the bottom of the page.
Paste your code or a list of unique codes in the popup window, one coder per row, and finish by clicking Add codes.
Once you're done, Save and Activate the code promotion.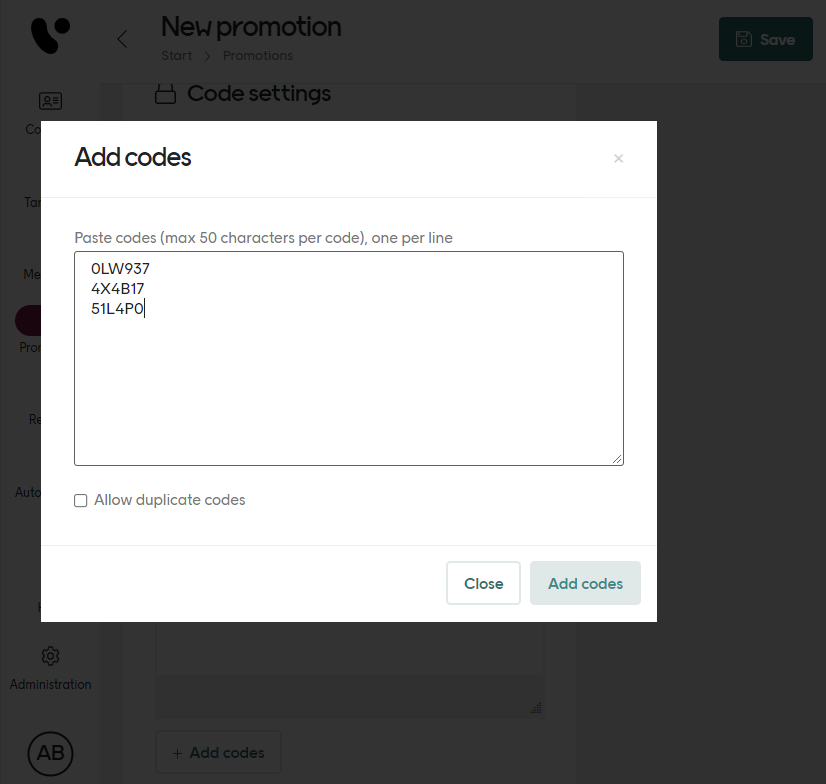 Take note that the Engage GUI is the only way to add new codes.
If you use unique codes, make sure you fill in with so many codes that they don't risk running out. Consider the size of the selection group you intend to send the promotion to.
When you select Unique date controlled codes per recipient, the recipients can retrieve a new code after the time specified (1 week–24 months).
How it's displayed to an email recipient
The code is not displayed in plain text when you send it in an email, but as a link that leads to a page where the code is displayed. Thereby, a code is only used when recipients click on the link. It's on this page that the User instruction is displayed. Activation text is the link text itself that appears in the email message.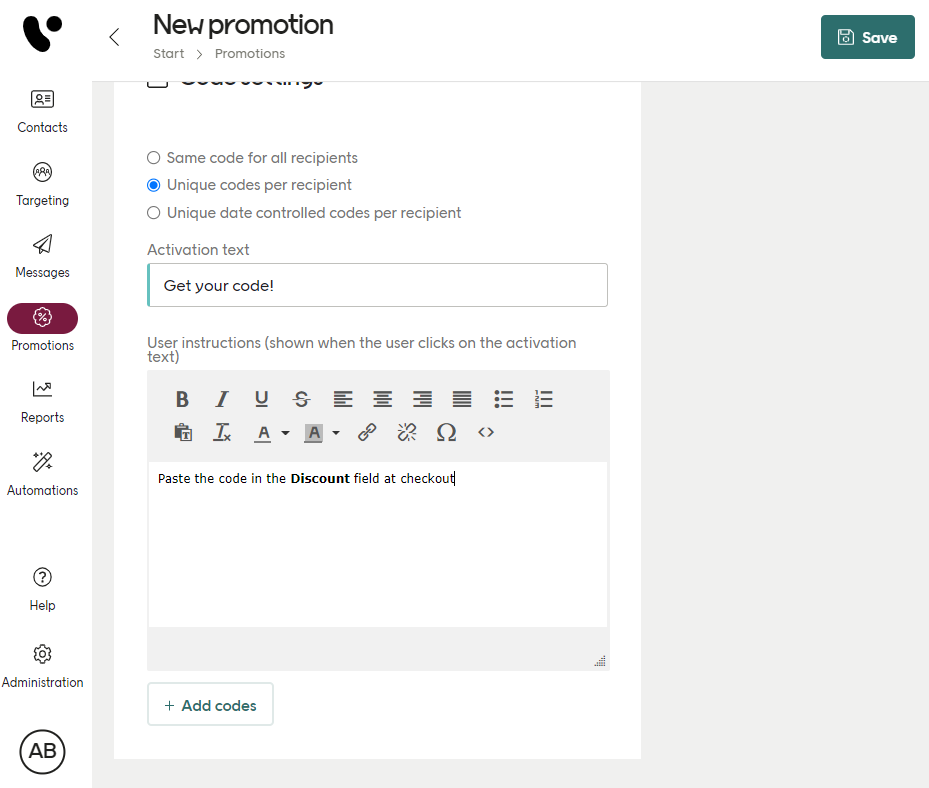 Make sure you don't run out of codes!
There are no warnings linked to the lack of codes so it can be a good idea to check the used vs. available codes periodically, at least for longer campaign periods or when you have the offer in several messages. One can easily add additional codes when needed.