About to create your first email in Engage? Here are a few helpful things to know before you create a new email message.
Email settings
| Setting | Description |
| --- | --- |
| Name | The name used to identify this message within Engage |
| A/B testing | Read more about A/B testing here |
| Conditional subject | Read more about conditional subjects and preheaders here |
| Sender name | Name displayed as email sender (pre-set, additional names may be added by contacting support) |
| Sender | Sender address is pre-configured |

Send as a specific store (not standard)
The Send as a specific store function can be activated in agreement with Voyado and may require adaptations to your email template. The purpose of the function is to enable sending email messages containing store specific information (mainly in the header and footer), such as opening hours and contact details. The pre-configured sender name will then be changed to match the chosen store.
Subject line and preheader
An appealing subject line may be the most important yet hardest thing to come up with, and it often requires a lot of testing to find out what works best for your audience.
The pre-header is displayed as the preview text, shown as a sub-header to the subject line when viewed in the recipient's inbox. It is generally between 35–90 characters, but some email clients may show up to 140 characters. There are also email clients that do not display any preview text at all. We recommend that you always write a preheader, otherwise the first text from the email will be shown.
Google Analytics
If active, this option will add UTM-tags on all links contained within the email. This will help you to track email traffic to the e-commerce or website. Campaign name, Source and Medium will be fetched automatically from your email settings but may be changed manually. Read more about UTM tags on Google's documentation here.
Working with UTM tags in Engage
Let's say that you want to send an email campaign to drive conversion within spring news. Then you would start by giving your email a name in Engage. In our example we name the email: 'Spring news for you'.
When you give the email a name, the UTM field Campaign will get the same value. The source and medium tags will automatically be set by Engage to their default values.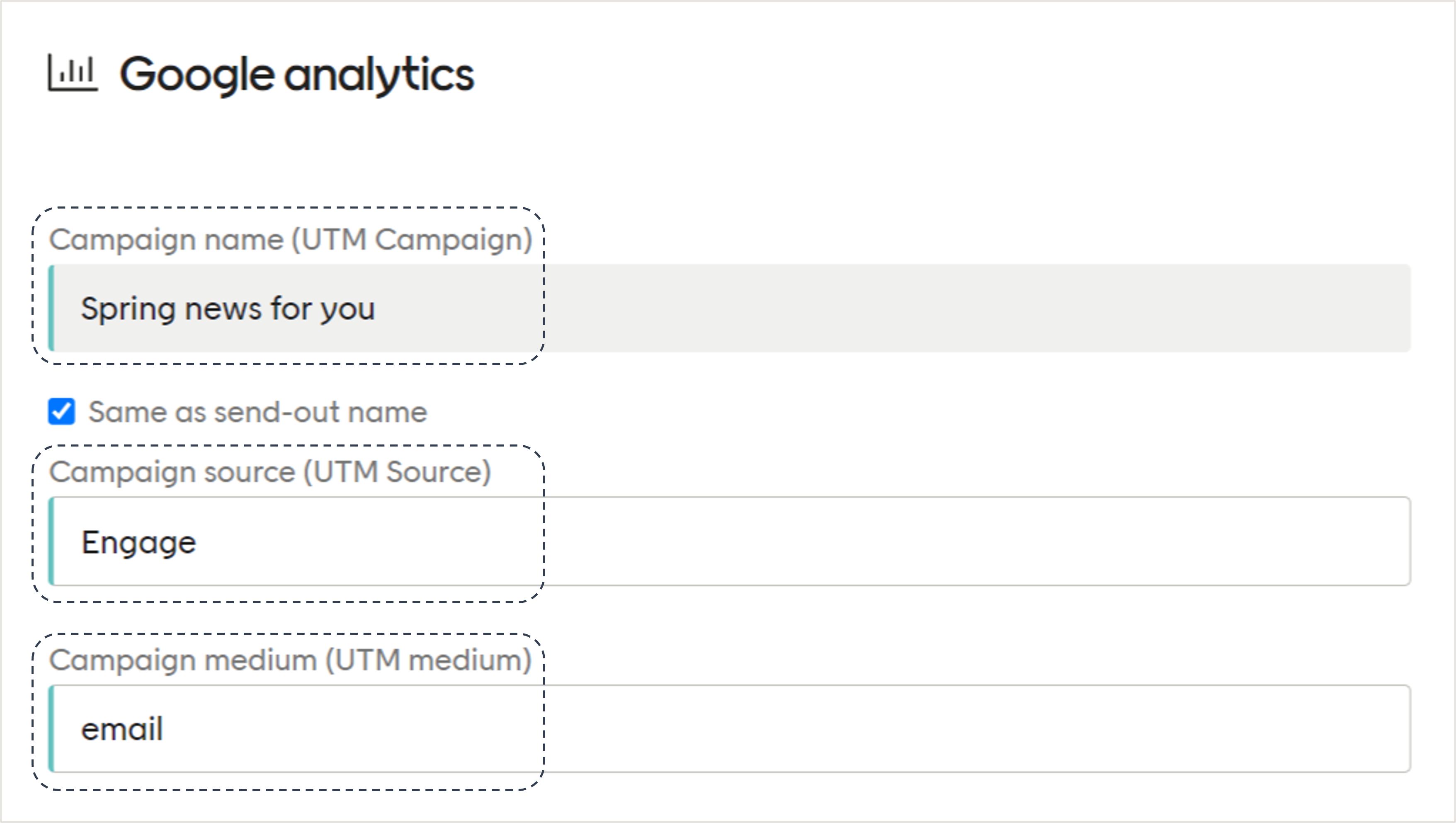 Campaign name (utm_campaign): Spring news for you
This is by default set to the name of your email in Engage—it's up to you if you want to edit the campaign name or not.
Campaign source (utm_source): Engage
Is by default set to Engage, the name of the sending source.
Campaign medium (utm_medium): email
Is by default set to email to identify traffic from the specific medium the campaign was sent from.
Campaign Content (utm_content): Optional
The content tag is optional to work with, one example of usage is if you want to track a specific URL in a specific module of an Email message. What you then need to do is to insert the content UTM tag in your URL, then insert the URL into the link field for a button or an image in your email message.
Examples of ways to name your Campaign content tag
Named by the module where you place the link:
https://www.voyado.com/?utm_content=hero-product


Named by the campaign title in the module:
https://www.voyado.com/?utm_content=spring_shoes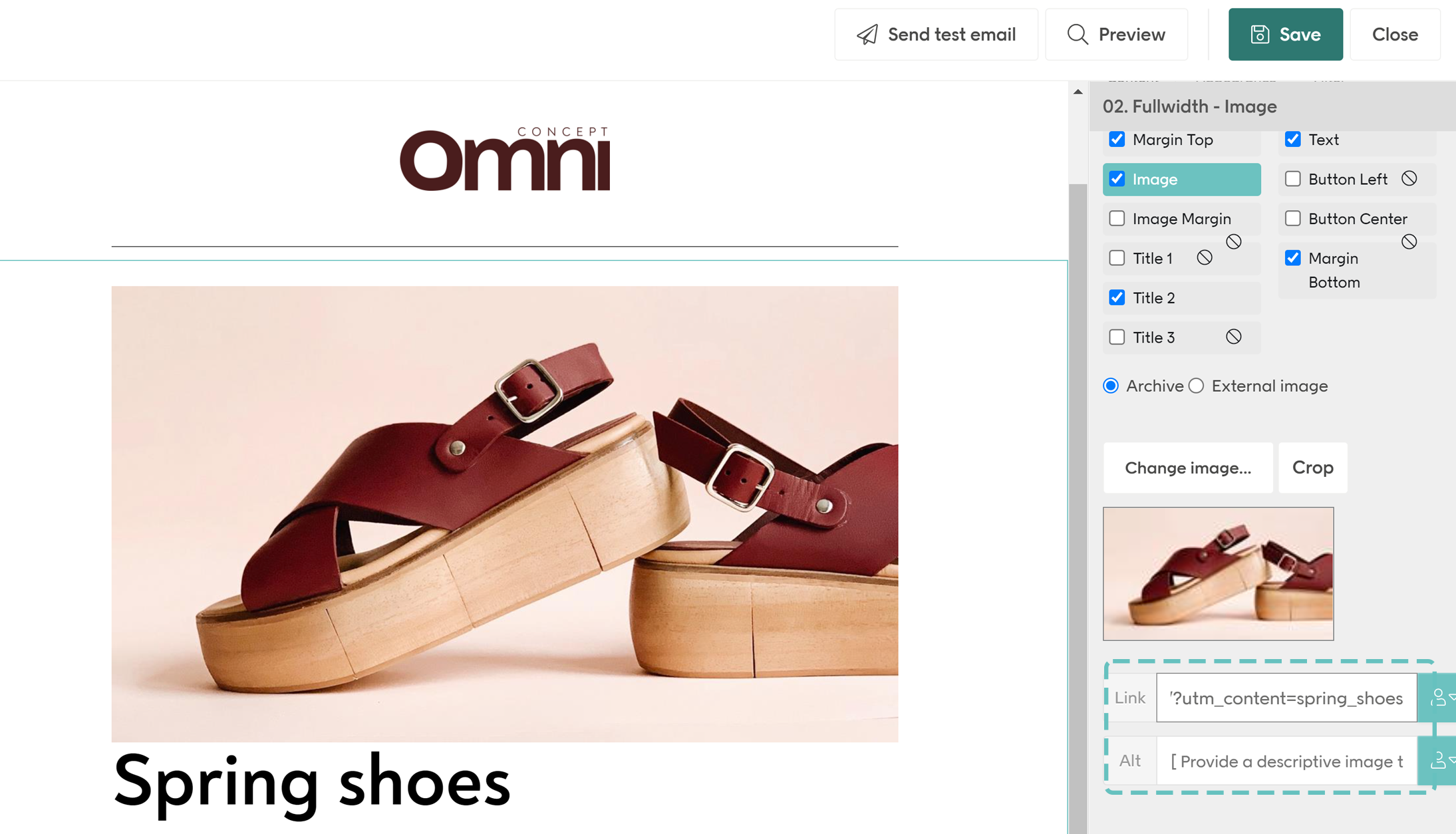 Tips if you want to work with the Campaign Content tag
Always use lower case in your Campaign Content tags
Use a hyphen instead of spaces in the Campaign Content Tag
Recipients
You may include or exclude recipients using your existing Segments, Labels, Previous messages and/or the possibility to create a new segment for this specific email.
All email messages are saved as drafts and can be found under the Message tab until you hit send or schedule a send time.
Design
Time to get creative. Learn about the design possibilities here.
Control groups
Create a control group to exclude a number of recipients from your message. You choose what percentage of contacts to exclude from your message and use as your reference group. When you follow up on your email statistics you will be able to see how much the recipients have shopped for in comparison to the contacts in your control group.
This is a very quick and easy way to follow up on your email campaigns. Learn more about control groups here.
Send or schedule
You can choose if you want to send your message immediately or schedule it for later.
We always recommend scheduled send-outs, especially if you want your message to be sent at a specific time and date. Engage will start to prepare your send-out up to two hours before your set time and will get it out faster to your recipients because of that.
If the email is part of a campaign, for example a summer sale, consider using the feature Batchwise delivery. By portioning out the email to smaller groups of recipients, you can avoid that your e-com gets overloaded.