Even though Engage is specialized in handling your digital communication, you can utilize its segmentation powers to make targeted postal send-outs to your contacts.
When using Postal in Engage you'll also be able to search and create segments based on when a contact was included in such a send out.
Some common use case for postal are:
distribute reward vouchers to contacts that are lacking mobile or email adress
do printed send-outs to the most loyal customers (magazines, invites etc.)
How it works
1. Navigate to Messages and then Postal in Engage, name your send out and enter the date for when you think your contacts will be reached by it. It's important to have a clear standard for naming your send-outs since there is no control for duplicates. Enter a description and maybe a date if you think this is important for you to easily distinguish between different send-outs.
2. Define the segment to be targeted.
3. Select the fields of data you wish to get exported to your printing partner. There are more fields available than shown in the picture below.
4. Generate a file (CSV format) for distribution to your printing partner. When this step is done, you're able to find and create segments on contacts included in the send-out.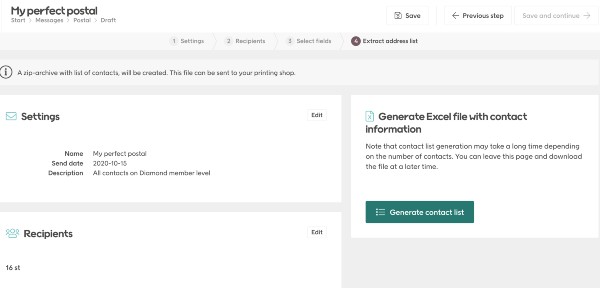 How to find and create segments included in a postal send-out
Navigate to Segmentation, search for Postal and choose Recipient, then select the send-out in question.