Bumped into an issue or product question? Don't worry we've got your back, but please read this first.
At Voyado we want to empower customers to be communication heros 🦸.
One important piece to enable customer success is to help with obstacles such as common questions and ongoing issues. Our support team always aim to provide a professional and personal support experience. To facilitate the best support to you we would like to share some best practices.
Requirements
To get access to support you need an account set up, this is important as it connects you to your company and ensures the correct response time (SLA). If you have not received an account please get in touch with your Client Manager.
We also recommend to read through the product documentation at Explore and conduct the Introduction training (check availability here or go to the Academy section).
How to register a support ticket
In case you cannot find your answer in an article, you can create a new support ticket. This is simply done by using the submission form on Explore.
From any page on Explore, click the Contact Support box in the upper right corner to access the request form.
Fill in the fields required, please make sure to describe the question thoroughly. This helps the support team to quickly asses your case and take the right actions immediately. To guide you each field will have instruction and examples. (Tip! Try not to crop screenshots, sometimes more details are very useful.)
Once you have completed the required information and you are happy with the input, click submit. Now your ticket is in the support queue waiting for pickup and assessment.
Note!
If your case is urgent (i.e. The Service is fully unavailable or business operation is severely impacted) it's required to submit a ticket and cc you Client Manager, then escalate the ticket via phone.
Follow up and tracking a ticket
In Explore, click the drop down menu next to your profile picture, then go to My activities. Here you will find your submitted tickets and status. You can click each ticket and view the full conversation, support agent owner, type of incident etc. You are also able to view tickets you've been CC'd on. Once a ticket is solved the status changes to Solved, after 7 days the ticket is closed and you need to register a new one.
Some users will have access to the organisations tickets, please contact you Client Manager if this is needed. You can also see buttons for your contributions (comments) and what articles you are following.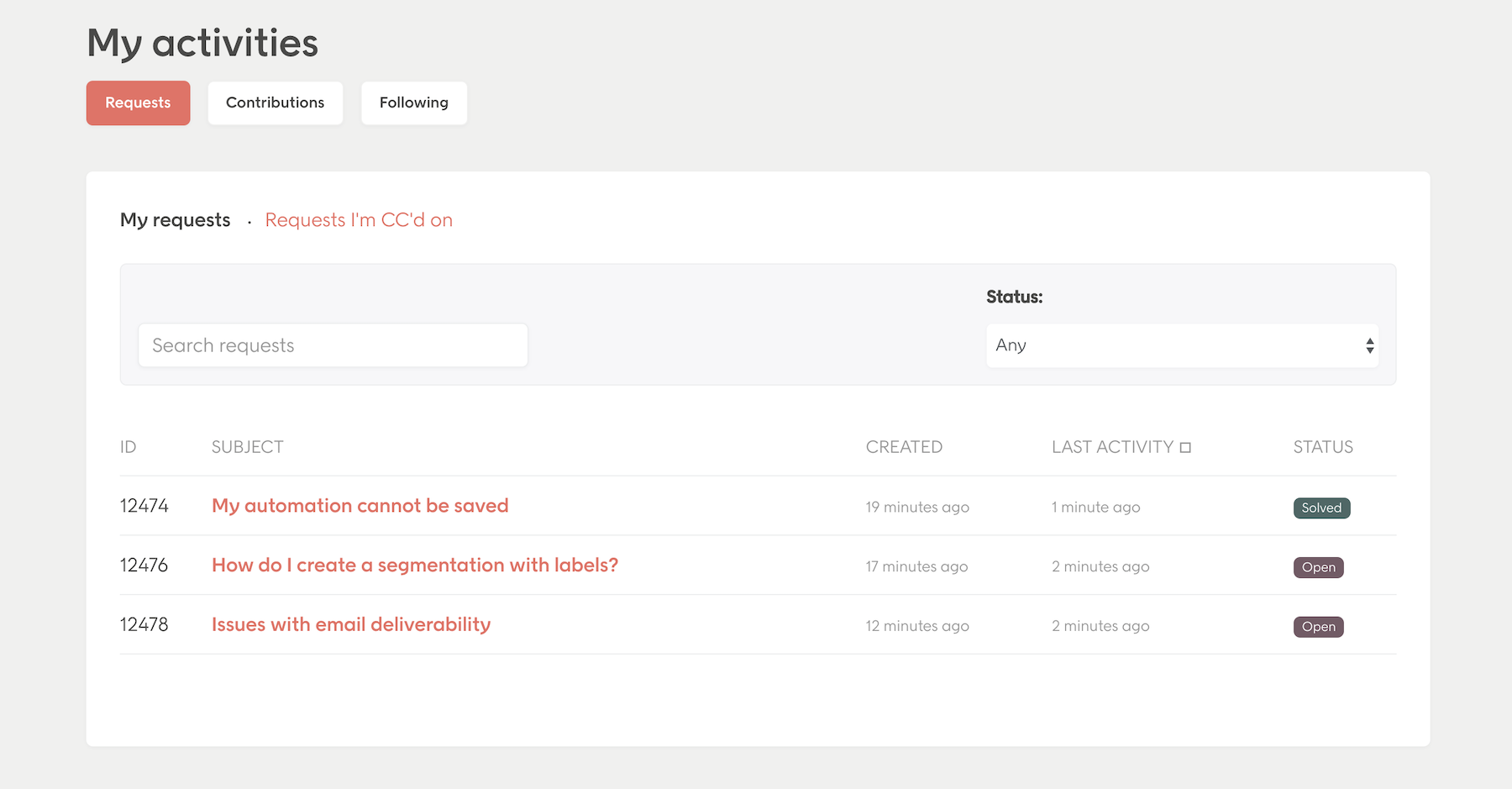 SLA & Escalations
Technical support is included in your Voyado monthly subscription (limitations may apply), this grants the following response time and Service level agreement (SLA). Please be aware the SLA's falls within business hours. Issues caused by customer will not be eligible for the SLA.
Opening hours
Monday-Friday
09 am -17 pm
| Urgency level | Description | Initial response | Update frequency |
| --- | --- | --- | --- |
| Low | There are no issues, but you still require help. There is minimal to no business impact. | 5 workdays | When solved |
| Normal | The service is fully available, but the specific setup is not working as expected. Business impact is minimal. A single user or partial areas of the service are impacted. | 2 workday | When Solved |
| High | The service is usable, but in a reduced manner. Business operation is moderate impacted. A single user or partial areas of the service are impacted. | 4 hours | 1 workday |
| Urgent | The service is fully unavailable or inaccessible. Business operations are severely impacted with critical consequences or unacceptable delays. All or multiple users are affected. | Immediate *Phone recommended | Continuous until resolved |
If the issue becomes more critical it's important that you inform the support specialist who is working on your case. When the level reaches Urgent you are required to cc your Client Manager and call support to inform.
In and out of scope
Support queries:
Ongoing issues; troubleshooting and resolution (or workaround).
Past incidents; to help you better understand the system and identify common misstakes.
General questions on how to perform a certain task in Voyado and information on how the system works.
General best practices (please note if your solution does not follow the standard setup general advice may not apply).
Non support queries:
Creating campaigns, automations and daily routine setups.
Training or extensive guidance, consultancy or custom development.
3rd party tools, setup and code.
Template design and troubleshooting, you can contact support but your case will be routed to the Production team and SLA's are no longer eligible.
Meet the team
To resolve issues and provide deep technical knowledge our support team is divided into distinct groups. This allows us to work efficient and have the right resource to contribute at the right level.
1st line (Support Specialist) is responsible to make the first assessment of the case and escalate further if needed. The team also manages common issues, resolves non critical cases.
2nd line (Application specialist), conducts further troubleshooting in complex cases, implement solutions and recommendations, collaborate with the development team if needed to resolve an issue.
3rd line (Developers) implements the resolution in case of a bug, or the issue is very complex needed developer knowledge.
Other
🐞 Bugs, we always do in depth testing before any release however we are humans and sometimes we fail to find them. In case of a bug you should always report it to support, however since bugs have a variety of complexity it's just not not possible to provide a time to resolution. Forgive us!
📥 Feature requests, we love being able to drop new cool stuff and we listen to what our customers want. Since there's many items on the wishlist careful planning is required by our Product teams. To ease the planning make sure you let us know in the support case what feature you want, why is this important and what value will it provide to your business and how do you solve the situation today?
📓 Make sure you add our Glossary to your favourites list.
That's all, you made it through 🏆! Ready to submit your first ticket and work with support? Go ahead and try it here.