The modules available in your design theme are unique to your Engage set-up. However, there are a number of modules that are built more or less in the same way across all Engage platforms. If you wish to discuss development of your modules, please contact your Account Manager. If you wish to know more about how modules work, keep reading.
In Engage, you can have one or more design themes installed that each include several modules adapted with the theme's design. You can read more about design themes and the range of Essential, Advanced, and Tailor-made modules we offer here.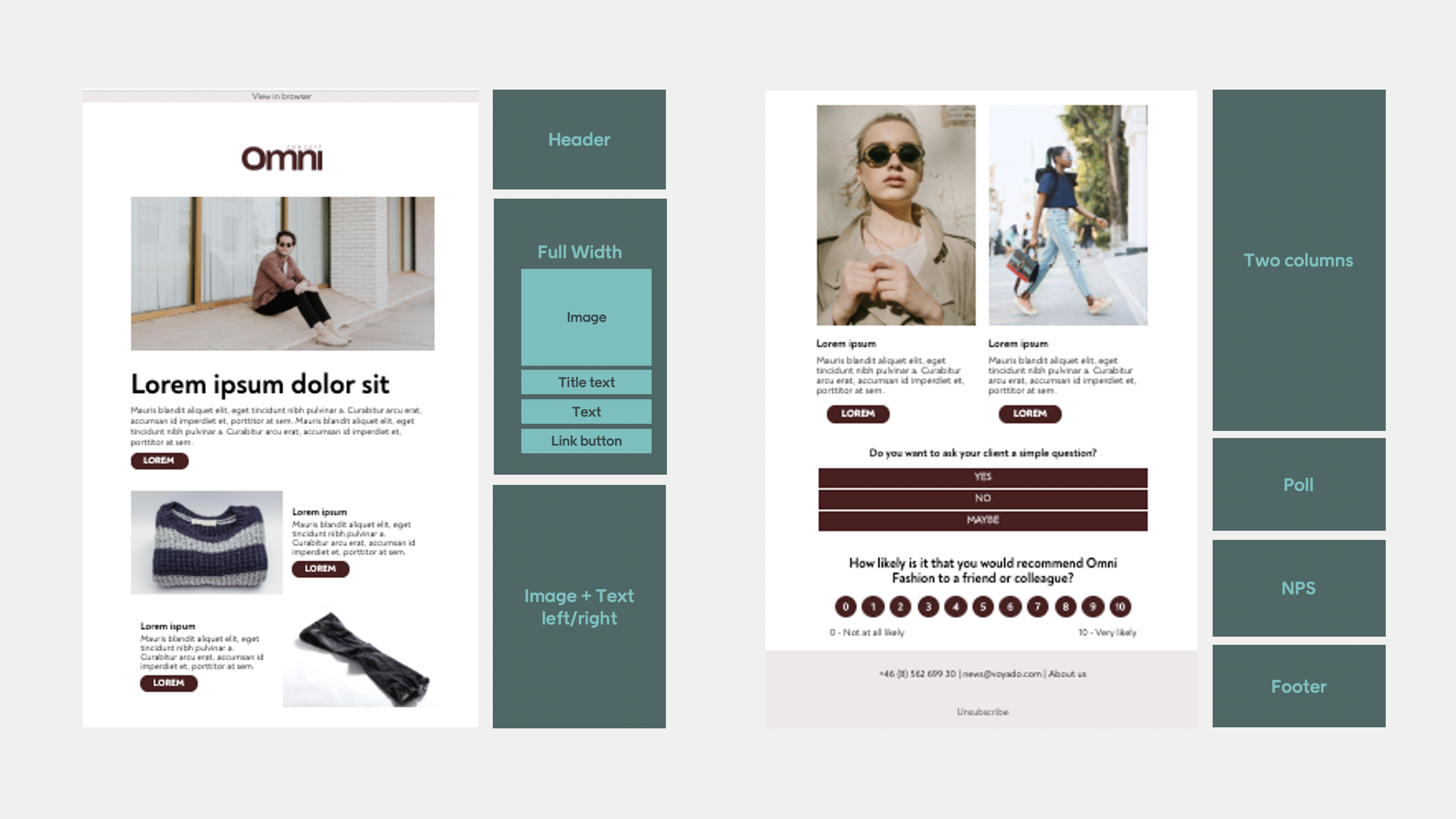 Elements
Your email modules have toggleable elements that can be shown and hidden. That makes designing emails very flexible—you can combine two modules, or show and hide elements, to make a new layout. Example of elements that are toggleable:
Image
Heading
Text
Button
Top and bottom margin
Margin under image
Responsive
All our modules are responsive, which means that it will adjust to all different devices: desktop, tablet and mobile.
A two-column module in desktop will in mobile appear as one column under the other. We can make the modules fixed in mobile—keep the two columns as two columns even in mobile, but it will still be responsive and adjusted to mobile. The text will be adapted to mobile to make it readable.
We do not suggest having three and four columns fixed in mobile, especially if you have a lot of text. It will not have much space for the text on each row and the text should not be less than 10px, otherwise it will lose its readability on mobile. Also, if you use words that are longer than the text field, there's a risk it will push the module and destroy the layout. For four-column modules we change it to two columns under each other in mobile. If you still want a four-column fixed in mobile, you should not use it with text.
Images
You can easily upload your images in the image library in Engage or use an image link. Images that are uploaded in the library can be cropped. The image width is always fixed in the modules, but the height is dynamic. Maximum file size is 5 MB.
You can also add a feature that enables you to place a background image in a module.
Formats that are possible to use in Engage and in emails are .jpg, .png and .GIF. Always use images for retina screens, if not, the image may look pixelated on certain devices. We have written the retina size in the modules and images in Engage so you don't have to calculate them yourself.
GIFs/Video
Most email clients are not able to play videos in emails (only Apple Mail can handle video), however you can use GIFs. Be aware that Outlook for Windows/PC is not able to play GIFs, they only show the first frame as a picture, so it is important to have a representative first frame.
When you insert the GIF image in the module you need to have the exact pixel width of the GIF as the width of the image frame, otherwise Engage will compress the image and the GIF will lose its function.
Read more about GIFs in emails here.