Here it is! An easy way to target ads on social media and Google to improve your return on advertising spend.
Voyado's connection with Facebook Custom Audiences and Google Customer Match can be used to target your communication on Facebook, Instagram, Messenger, Google Search, Google Display Network, Youtube, and Google Shopping.
Why work with Online Ads?
Savings on advertising spend by pre-filtering
Exclude contacts from campaigns if they are not relevant for various reasons: They are churned since long, they have recently bought from you, or they should be more relevant for another campaign.
Increased sales through highly targeted campaigns
Create specific campaigns to cater to certain areas of interest, which you know your customers have from their purchase history. For example, tennis accessories for those who recently bought a tennis racket.
Efficient traffic acquisition through bid optimization
Adapt your bidding logic, based on what you know about your customers through Voyado. One example would be to spend more on a customer with a high average order value or high RFM.
Improved acquisition through lookalikes
Boost your new customer acquisition by automatically exporting your best customers from Voyado to the advertising platforms and utilizing lookalike audiences. Read more about Lookalike audiences here.
Synchronizing with Facebook and Google
Hashed contact details
The synchronization between Voyado and Facebook/Google is based on hashed email addresses and hashed phone numbers. No personal information is exposed from Voyado.
Minimum match
The segments need at least 1000 matching Facebook profiles, or matching Google accounts, to get synchronized successfully.
Renew connection with Facebook account
Your Facebook account needs to be renewed within 90 days to allow for further synchronization. It might be a good idea to save a reminder in e.g. Outlook so you don't forget.
How to sync a segment from Voyado
Setting up synchronization between Voyado and Facebook Custom Audience/Google Customer Match is very easy, you only need to follow a few steps:
Step 1 – Add an Ad Account
Head over to "Online Ads" under the Administration tab in Voyado, and in the next step click "Ad accounts". Choose if you want to add your Facebook account or Google account.
When adding your Facebook account: You will be redirected to Facebook where you need to log in. Note that it's required to be administrator in FB Business Manager for this step if you want to add your Facebook account.
When adding your Google account: Choose your account and confirm your choices.


Step 2 – Create External audiences
Head back to the Online Ads tab under Administration, and in the next step, click "External Audiences". Create a new external audience by clicking "New External Audience" in the top right corner.
Select which segment or target audience in Voyado you want to connect, which ad account you want to use and give your External audience a name.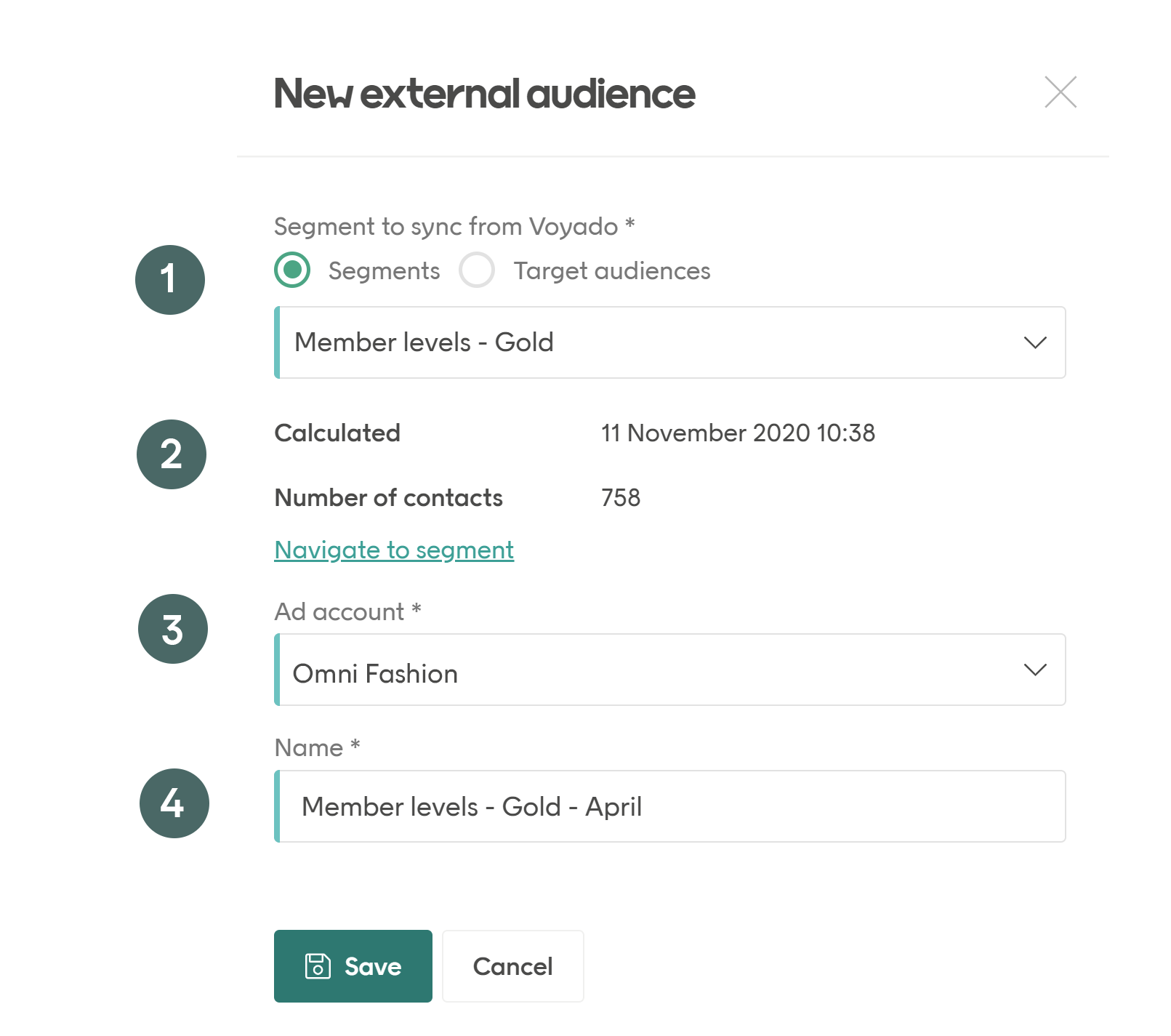 Choose an existing Segment or a Target audience that you want to synchronize to Facebook or Google.


When you have chosen your segment/target audience you will be able to see when it was last calculated and how many contacts it contained when it was last calculated.

Note that the number of calculated contacts will change over time as contacts fall in and out of the segment/target audience. By clicking "Navigate to Segment" you will see the connected Segment in the segmentation view.


Chose which Ad account you want to work with from the drop down list of added accounts.



Give your External Audience a name.
Step 3 – Target ads to your chosen audiences
Changes will synchronize within 24 hours. Scroll down to read about the different synchronization statuses.
Your external audiences will be available in your ad platform where you create and manage your campaigns, content, and budget as usual.
List of synchronization statuses
Besides from account, segmentation name, number of synchronized contacts and when the segment was last updated, you will be able to see a few status states.
Waiting for first synchronization: The first synchronization to Facebook or Google have not yet been done.
Synchronized: The segment was successfully synchronized and should be available to work with to target ads to contacts on Facebook or Google .
Failed to calculate segment: The segment was not calculated correctly.
An error occurred while retrieving data from provider: Facebook or Google was not able to respond to the synchronization.
Segment removed from Voyado: The saved segment or Target audience is no longer available in Voyado and the synchronization to Facebook or Google was not possible to fulfill.
Failed to synchronize segment: The segment could not be synchronized due to Facebook or Google .
Not available from provider during last sync: The external audience was no longer available on Facebook or Google and the synchronization was not possible to execute.
That is it! Good luck with your Online Ads campaigns!
Are you interesting in getting started with Online Ads? Contact your client manager.