Without the basic ingredients it might be difficult to attain good results. You've heard about the importance of relevance before, but it doesn't hurt to repeat the message.
Your customers expect you to be proactive and serve them with inspiration and product suggestions. Eliminate all obstacles and inspire them to their next purchase. The newsletter must be aligned with customer preferences and you must do your utmost to catch their attention.
Use A/B testing for optimized results. Before entering the world of test strategies, let's have a taste of what a good newsletter structure and content is. You know what they say, it's not just what's on the outside, but it's the inside that counts.
As the saying goes, "you can put lipstick on a pig, but it's still a pig". Here's how to avoid that, with the recipe for a newsletter your contacts will actually want to receive: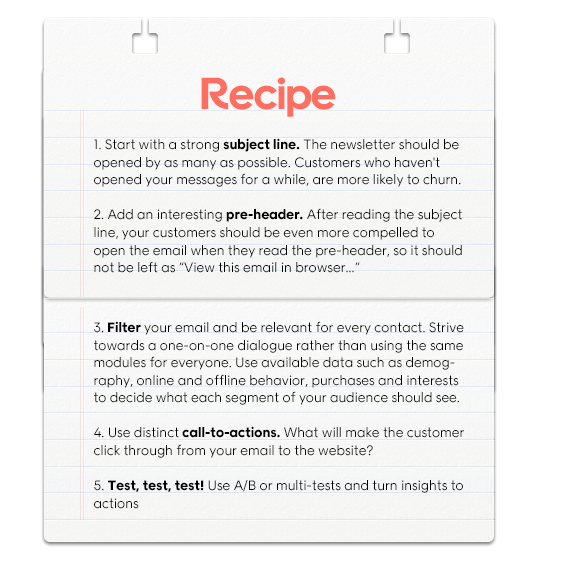 Is there an ultimate recipe for an email?
I'm sorry, but there's no one recipe that will work for everyone. Since your offering and target audiences aren't fully comparable to other lines of businesses, there's no generic benchmark for:
What is a good/acceptable open rate?
How can we use content to optimize open rates and/or click through rates?
What kind of promotions work?
What time of day should we send emails?
Which channel shall we use for different messages?
What impact does a reminder have?
You need to carry out tests for understanding your marketing potential. Being data driven and understanding customer preferences must not only include AI, machine learning and smart algorithms. You can make a big difference by just being curious, structured and by testing your hypotheses.