With Engage's Challenges feature, you can create and drive customer engagement by offering the opportunity to reach a goal together with your brand. This article shows you how to set up a challenge in Engage.
Gamification and engagement are key parts in turning your customers into loyal brand ambassadors. Use the Challenges feature to encourage and reward your customers for desired actions and behaviors.
This feature is not officially launched yet. Interested in giving it a try? Talk to your Account Manager.
This article is focused on how to create a new challenge and customize the settings to suit your purposes.
Basic settings
Access Challenges under Engagements in the left-hand menu in Engage. Select New challenge.
Add a name and an optional description and click Save to go forward.
Click Edit to access the basic settings.
Start by setting the number of checkpoints or activities that the participants must reach to fulfil the challenge.
Choose if you want to set a validity time for the challenge, perhaps to match a specific campaign period. You could also choose to limit the validity time per contact from the date they enter the challenge, but make sure this time span doesn't exceed the challenge's validity time if you decide to set both.




Toggle on Require contact approval to enable your customers to manually agree to participate in the challenge. Otherwise, the challenge will be activated as soon as the customer fulfils the criteria.
Toggle on Add image for each reached Checkpoint if you want to upload images to illustrate the checkpoints. These images can be shown in any email module and displayed on "My pages", for example.
Finish by clicking Save.
When you're done with your settings and happy with your challenge, Activate it in the top right corner.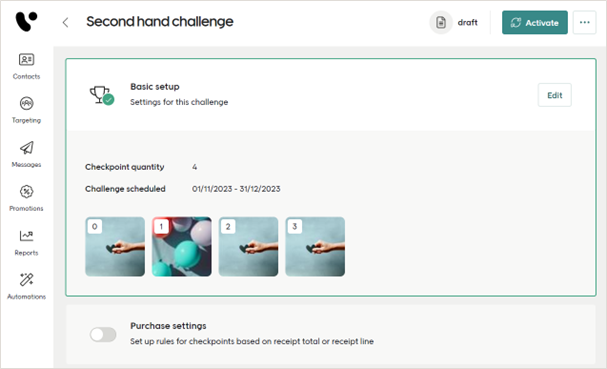 Now you can use the challenge in automations, triggered by e.g., an interaction such as a product review or social media interaction. If you're using the challenge as a stamp card for purchases, however, you need to make some additional settings.
Purchase settings
Toggle on Purchase settings.
Decide if the checkpoints should be based on a minimum amount on the receipt—Receipt total—or on a Receipt line. If you choose Receipt total, you enter a sum that the participants must purchase for to reach a checkpoint, for example €10. If you select Receipt line, you can use the segmentation tool to set up more specific criteria. You can, for example, select a specific product category or article name and add a minimum amount (at least €25).




Finish by clicking Save.
When your all set with the challenge, make sure to Activate it.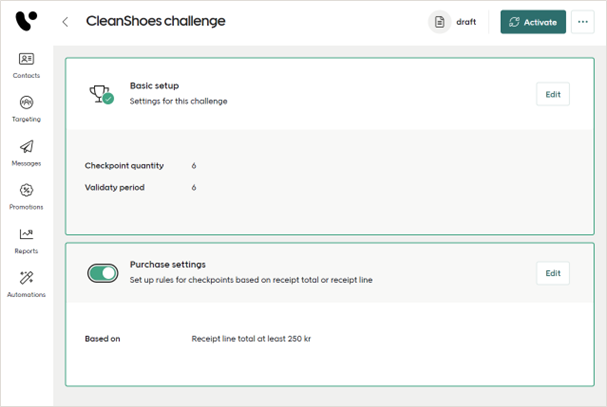 Now it's time to set up an automation to follow up on and communicate with the participants. There's both an entry trigger specifically for when your customers reach a checkpoint, and an activity you can use with any trigger you want.