This guide covers how to define an abandonment, what a great campaign looks like and some segment and content ideas. Hopefully, this will nurture your leads toward a sale.
Let's start with the foundation, of what you want to achieve with your abandoned browse campaign:
Conversion: The email serves as a reminder of products a subscriber was interested in, and the content is trying to tempt the visitor to buy them. Usually sent as soon as possible.
Inspire: Attracting a recipient back onto the site and browsing. The content might be less focused on the specific products browsed and instead spotlight the category or brand in general.
It's important to note that these types of emails are aimed at people you can identify on your site (i.e., you've collected their email address and they've opted into communications from you).
Define what abandoned browse is to you
Before you start creating any emails, it's important to establish exactly what you're going to consider 'browse abandonment' to be. And be cautious—if you sent an email every time someone looked at an item you could potentially find yourself with a lot of unhappy customers.
Instead, define clear entry criteria as to whether someone qualifies for your browse abandonment campaign. You might consider that someone has demonstrated sufficient intent by looking at an item more than once or browsing several items in a specific main category.
What does a great browse abandonment campaign look like?
As the intent signal you capture from someone browsing an item isn't as strong as if they'd add it to their cart, it's important to be mindful of the tone and marketing angle you use. If you come on too strong you might lose the customer entirely—a light touch is best.
With that in mind, here are some best practice tips for your abandoned browse campaigns:
Include a clear call-to-action that lets the recipient know what you'd like them to do next (e.g., "Come back and browse again")
Include key customer service details (such as shipping and return policies and contact details)
Ensure people will only receive one email within a specified time frame, such as 14 or 30 days
In case you have multiple activities in the automation, set up an exit criterion that stops the browse abandonment campaign once the recipient has made a purchase
Campaign segmentation
To tailor a campaign in more detail you can segment the campaign based on the rich customer data stored in Engage. This is usually extra valuable if you want to use more inspirational communication. In that case, customer data can help create a tailored experience. Here are some criteria that you may wish to segment your campaign:
Lifecycle stage: Changing the number of messages you send depending on the lifecycle stage of the recipient—for example, if someone is a repeat shopper, targeting them with fewer (or no) emails as they'll probably come back and shop again anyway.
Historical purchases: Having different campaign flows based on historical purchase data.
Interests: Creating segments based on which occasions a customer currently is interested in.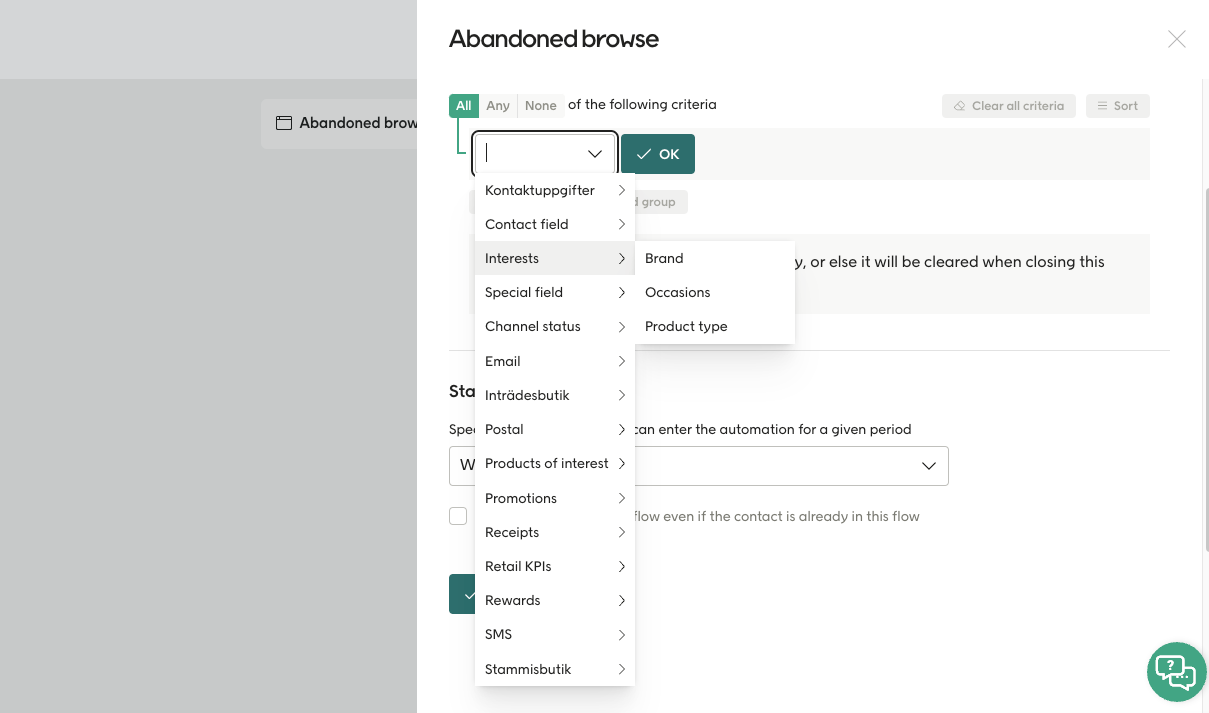 Email content
To make the abandoned browse communication more relevant and personalized dynamic content is the way to go. This means adapting it according to the recipient's profile. Some examples of dynamic content:
Abandoned products: The starting point for any abandoned browse email, at least if the main purpose is conversions. Include the products abandoned by the customer, including images, prices, and links back to each one.
Personalized subject line and copy: Including your customer's name is great—but you can do more. Take it a step further and tailor the content to the specific shopping journey. You could, for example, use specific communication for VIP or first-time customers.
Product recommendations: Personalizing the product recommendations in your browse abandonment email is a great way to tempt a casual browser to complete their purchase with you—even if they don't fancy buying the specific item they looked at.
Challenges and promotions: This form of content will show incentives and offers to certain customer segments, such as perks or loyalty recognition to customers to encourage them to complete their purchases.
Want to know more on how to get started with abandoned browse? Reach out to your Account Manager.